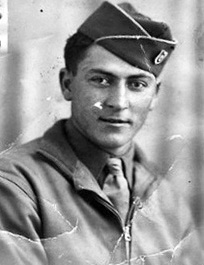 We honor and remember all the brave soldiers who died fighting for the freedoms we have today as Americans this Memorial Day. We would like to highlight one of those special soldiers who gave his life during WWII: PFC Michael Macera.
Macera trained as a machine-gunner and was assigned to Company 'C' of the 41st Armored Infantry Regiment, 2nd Armored Division. Macera landed in Morocco on Christmas Day during Operation Torch but did not see combat. He first saw combat during the Sicilian Campaign, where he earned a Bronze Star for pulling a wounded soldier to safety. During the Normandy Campaign, Macera landed with the 2nd Armored Division on June 9, 1944. Fighting alongside the 101st Airborne, Macera and the 41st played a key role in capturing Carentan and St. Lo. On September 1, 1944 Macera and the 41st Infantry had moved close to the Belgian border at LaChapelle, France. Members of the French resistance stumbled upon them, and confused by their uniform, opened fire. Macera was killed in a "friendly fire" incident. He was 24 years old.
Senior partner of Tower Compactor Rentals, Michael Macera, was named after his Uncle, PFC Michael Macera.